If you're thinking about hosting an 80s themed party, but you're looking for some much needed advice and inspiration, then you've come to the right place. Firstly, the Party Pack above will help you to host your own 80s night. It includes a CD of quiz games, original 80s music CD, invitations, name tags, gourmet guide and a poster game.
80s Party Music
If you're hiring a DJ then just make sure he has an extensive collection of 80s songs. What a disaster your night would be if he/she decided to play the latest deep house tunes - no, I'm not sure what deep house is either!
Providing your own songs is as simple as buying a decent compilation CD. However, some CD's don't contain the original tunes, or re-recorded versions by an ex-member of the original 80s band - they simply don't sound the same at all!
This DVD is highly rated by customers and contains 60 sing-a-long tunes, which should be enough to keep everyone entertained for the whole evening. The Zoom karaoke DVD's are always of a decent quality, and the backing tracks are professionaly recorded.
If karaoke isn't your thing, then a decent compilation CD is required. Unless, of course, you have a decent collections of vinyl and something to play it on.
The Edge Of The Eighties
is, in my opinion, the best and most unique compilation available. If you want your guests to listen to some decent acts, instead of the run-of-the-mill stuff found on the majority of compilation CD's, then this is for you. Acts included Visage, Japan, Soft Cell, The Cure, Siouxsie & The Banshees to name but a few. The choice of tracks has been compiled by a genius (there are 53) and customers seem to love this CD. If you want to host the coolest 80s party of the year then get this CD!
For the ultimate party CD,
80s Pop 100 Hits
would be my No.1 choice. For a start 100 eighties tunes should be enough to get you through the whole evening. Take a look at the list of artists and you'll recognise just about every one. This CD is guaranteed to go down a storm and there is something for everyone. Bros, Five Star, Tears For Fears, Cyndi Lauper, Adam Ant, the list goes one. Okay, there are one or two cheesy acts, but they always go down well at just about any party. This is a very strong compilation of popular and original 80s chart hits - what more could you want?
There are dozens of CDs available, though, so click this link to see them all
80s Compilations
or try this search for
80s Party Music
at Amazon. Obviously, you should check the ratings and reviews to make sure that the original tunes are featured. In the majority of cases they are, and the more popular sellers are usually a safe bet.
I've carefully selected the three compilations above for the choice of original tracks. They're all highly rated, but also feature popular songs that are more suitable for a party, rather than listening to on your headphones.
Party Invitations
Your guests really need to know when and where your party is, obviously, and these invitation cards at Zazzle.co.uk really look inviting;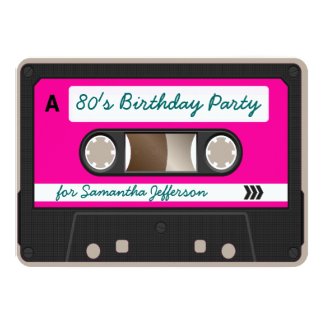 Retro 80s Cassette Tape Birthday Party Invitation 11 Cm X 16 Cm Invitation Card
by
CustomInvites
View more
Dance party Invitations
80s Party Accessories and Decorations
You're going to need a few items to make your party look like it's been set in the 1980s.
These paper cups come in packs of eight and will enhance the 80s theme. Matching paper plates and party whirls are also available...
Another idea would be to add one or two 80s posters to the walls or near the entrance. Check out the
retro posters
page at my website simplyeighties.com for some great ideas.
You may also want to read my blog post
80s Party Decorations
I hope that I've given you a little inspiration in this post, at least. Whatever you decide to do - have fun!